본문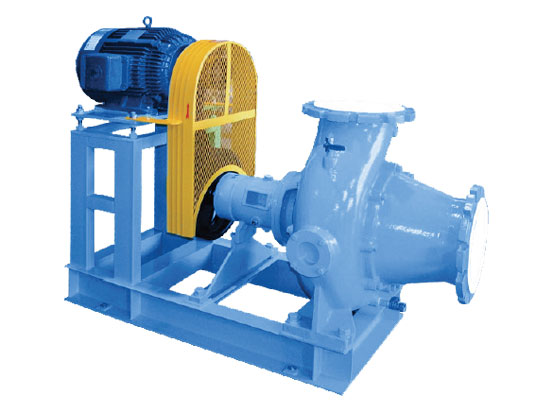 CENTRIFUGAL SCREW PUMP(GCS)
Various fields of water treatment (sewage, filthy water, wastewater,
sludge), paper industry, foods, petrochemical industry, fiber
industry, metalworking industry, sugar-manufacturing industry,
oil and fat industry, ethanol-manufacturing industry, starchymanufacturing
industry, ceramic industry, mining industry, construction
industry, livestock industry (cowhouses, hog barns),
fishing industry
Design & Structure Feature
Multi Screw Pump
As a high performance next generation pump combined smooth fluid flow of screw pump with high efficiency of mixed flow pump in addition to complex functions of screw pump and mixed flow pump, it brings up innovations unapproachable by a sludge transfer pump.
This is the pump as the ultimate solution of the long pending 
problem to cause unbalance in using because of partial one-side 
wear of screw impeller as well as its transfer power equivalent to 
spurt/screw pump excellent in transfer of solids.
Also it has low hindrance rate available of continuous reduction of 
maintenance cost.
Sectional Drawing / Selection Chart
Outline Drawing
| | | | | | | | | | | | | | | |
| --- | --- | --- | --- | --- | --- | --- | --- | --- | --- | --- | --- | --- | --- | --- |
| Model | A | B | C | D | E | E1 | F | H1 | H2 | K | L | L1 | L2 | N |
| GCS 65×50 | 400 | 175 | 360 | 140 | 370 | 330 | 75 | 200 | 160 | 165 | 650 | 100 | 450 | 14 |
| GCS 80×65 | 470 | 195 | 475 | 145 | 400 | 360 | 75 | 248 | 217 | 175 | 750 | 100 | 550 | 14 |
| GCS 100×80 | 470 | 205 | 485 | 155 | 400 | 360 | 75 | 248 | 227 | 175 | 750 | 100 | 550 | 14 |
| GCS 125×100 | 500 | 230 | 585 | 180 | 450 | 400 | 100 | 300 | 250 | 205 | 800 | 100 | 600 | 19 |
| GCS 150×125 | 550 | 250 | 600 | 185 | 450 | 400 | 100 | 305 | 295 | 205 | 900 | 100 | 700 | 17 |
| GCS 150×150 | 640 | 268 | 665 | 195 | 600 | 535 | 125 | 360 | 305 | 250 | 1000 | 200 | 600 | 19 |
| GCS 200×150 | 650 | 283 | 665 | 230 | 600 | 535 | 125 | 360 | 305 | 250 | 1050 | 200 | 650 | 19 |
| GCS 250×250 | 780 | 365 | 913 | 325 | 700 | 625 | 150 | 480 | 433 | 325 | 1250 | 200 | 850 | 23 |
| GCS 300×250 | 800 | 365 | 913 | 355 | 700 | 625 | 150 | 480 | 433 | 325 | 1250 | 200 | 850 | 23 |
| GCS 300×300 | 880 | 365 | 960 | 370 | 850 | 750 | 150 | 600 | 500 | 480 | 1300 | 200 | 900 | 23 |
| GCS 350×300 | 920 | 375 | 960 | 380 | 850 | 750 | 150 | 600 | 500 | 480 | 1400 | 200 | 1000 | 23 |
| GCS 400×400 | 1000 | 530 | 1370 | 400 | 1200 | 1100 | 200 | 530 | 840 | 510 | 1800 | 100 | 800x2 | 25 |
| GCS 450×400 | 1000 | 565 | 1370 | 400 | 1200 | 1100 | 200 | 530 | 840 | 510 | 1800 | 100 | 800x2 | 25 |
* FOOTNOTES : All dimensions given in millimeters / Dimension
| | | | | | | | | | | | | | | |
| --- | --- | --- | --- | --- | --- | --- | --- | --- | --- | --- | --- | --- | --- | --- |
| Model | A | B | C | D | E | E1 | F | H1 | H2 | K | L | L1 | L2 | N |
| GCS 65×50 | 620 | 175 | 360 | 140 | 330 | 290 | 75 | 125 | 160 | 165 | 100 | 100 | 500 | 14 |
| GCS 80×65 | 700 | 195 | 475 | 145 | 350 | 310 | 75 | 173 | 227 | 175 | 800 | 150 | 500 | 14 |
| GCS 100×80 | 720 | 205 | 485 | 155 | 350 | 310 | 75 | 177 | 233 | 175 | 800 | 150 | 500 | 14 |
| GCS 125×100 | 850 | 230 | 585 | 180 | 410 | 360 | 100 | 200 | 250 | 205 | 950 | 150 | 650 | 19 |
| GCS 150×125 | 850 | 250 | 600 | 185 | 410 | 360 | 100 | 205 | 295 | 205 | 1000 | 150 | 700 | 19 |
| GCS 150×150 | 900 | 268 | 675 | 195 | 510 | 445 | 125 | 235 | 305 | 250 | 1050 | 200 | 650 | 19 |
| GCS 200×150 | 930 | 283 | 675 | 230 | 510 | 445 | 125 | 235 | 305 | 250 | 1050 | 200 | 650 | 19 |
| GCS 250×250 | 1150 | 365 | 913 | 310 | 650 | 575 | 150 | 335 | 433 | 325 | 1200 | 200 | 800 | 23 |
| GCS 300×250 | 1170 | 365 | 913 | 340 | 650 | 575 | 150 | 335 | 433 | 325 | 1250 | 200 | 850 | 23 |
| GCS 300×300 | 1300 | 365 | 960 | 370 | 750 | 675 | 150 | 360 | 450 | 375 | 1300 | 200 | 900 | 23 |
| GCS 350×300 | 1300 | 375 | 960 | 370 | 750 | 675 | 150 | 360 | 450 | 375 | 1300 | 200 | 900 | 23 |
| GCS 400×400 | 1850 | 530 | 1370 | 400 | 1200 | 1100 | 200 | 530 | 840 | 510 | 1800 | 100 | 800x2 | 25 |
| GCS 450×400 | 1850 | 565 | 1370 | 400 | 1200 | 110 | 200 | 530 | 840 | 510 | 1800 | 100 | 800x2 | 25 |
* FOOTNOTES : All dimensions given in millimeters / Dimension